"Integrating faith and reason into the discourse of American domestic public policy."
---
The American Politics and Policy students at Patrick Henry College founded the George Wythe Review in 2009 with the mission of integrating faith and reason into the discourse of American domestic public policy. To fulfill its mission, the review created a bi-yearly publication for students to present their research on domestic policy issues. The editors are committed to fostering an environment for discussion that enhances both the American Politics and Policy program and the mission of Patrick Henry College. As one of the nation's few undergraduate publications, the George Wythe Review works diligently to ensure the journal's success and growth both on the campus of Patrick Henry College and among its readers nationwide.
The journal's namesake, George Wythe, was one of the premier scholars in early American history. He was a strong supporter of the War for Independence, the new nation's first law professor, and a zealous patriot. Many of America's most influential leaders, such as Thomas Jefferson, studied under his guidance. Furthermore, as a framer of the Constitution, Wythe left a legacy that the United States still honors to this day. The George Wythe Review adopted his name in memory of his brilliant scholarship and in hopes that the journal might emulate Wythe's dedication to our country.
---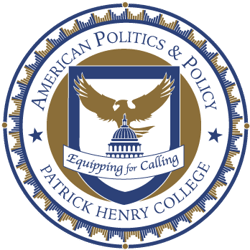 The George Wythe Review is the flagship program for American Politics & Policy majors at Patrick Henry College. Students in this program study key sub-fields of American Government, including American institutions and behavior, state and local government, public economics, public policy, and research methods. Dr. Michael Haynes is the faculty adviser for this program, and he takes pride in its success. Students from this program regularly intern at the White House, the U.S. House of Representatives, the U.S. Senate, The Federal Communications Commission, The Heritage Foundation, and many other prestigious institutions throughout the Washington D.C. area.